Rhinoplasty
August 9, 2016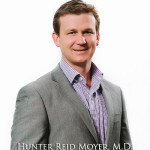 Your nose is one of the most recognizable features of your face – it is the central focus and provides balance to your facial appearance. There are different sizes and shapes of the nose, mostly determined by family genetics. Among the millions of plastic surgery procedures done each year throughout the world, Rhinoplasty is one of the top-five most requested procedures. Rhinoplasty, casually referred to as a "nose job," can recreate the appearance of the nose to help patients achieve the size, shape, and appearance that they desire.

Hunter Moyer, MD, is a plastic surgery specialist who understands how important it is to have a nose that is attractive. Having a nose that is both natural and well balanced creates and overall attractive facial appearance. Rhinoplasty can be combined with other facial enhancement procedures. This surgery is an ideal option for many patients because it provides a successful and permanent solution. Rhinoplasty is also a surgery that can be performed to correct structural issues of the nose that inhibit correct breathing or cause sinus problems.
The nose is a complicated facial feature, and all aspects of the nose must be taken into consideration when undergoing Rhinoplasty:
Shape
Size
Protrusion from the face
Cartilage between the nostrils
Width of the nasal bone
Profile of the nose
Correcting issues as to how these features relate to one another is essential in recreating an attractive and balanced nose. During Rhinoplasty, nose reduction, reshaping, and implant placement can be performed in order to create a nose that becomes an attractive facial feature.
Dr. Moyer is a board certified plastic surgeon who believes in blending medical knowledge with artistic insight in order to achieve harmony and beauty among your facial features. If you are unhappy with the appearance of your nose, please contact Hunter Moyer, MD, to schedule a consultation.
Posted on behalf of Dr. Hunter Moyer
Follow Us on Google+

Hunter R. Moyer, MD