Brazilian Butt Lift
September 12, 2016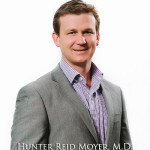 Perhaps no other area of the body causes women more grievances than the buttock area. The hips, the inner and upper thighs, and the buttocks can define a woman's shape and have a huge impact on her appearance. Buttock augmentation, better known as a Brazilian butt lift, involves a fat transfer from one area of the body by liposuction to augment the size of the buttocks.

The Brazilian butt lift provides many benefits to patients from the simple fact that a patient's own fat is used instead of a filler. This is an ideal situation because many women are unhappy with more than one area of their bodies, and during a Brazilian butt lift, they can achieve aesthetic fat reduction from another area while enhancing the buttock area. During fat transfer to reshape the buttock area, fat can be transferred from the abdominal area to the buttocks. This allows for the reduction of tummy flab and love handles, while gaining better backside curves.
Dr. Hunter Moyer offers superior results with this less invasive buttock augmentation procedure. There is much less scarring and recovery time with a Brazilian butt lift than there is with Butt Implants or a Full Surgical Butt Lift. With a Brazilian butt lift, the injection points are virtually invisible, as are the areas where the fat was harvested during the liposuction procedure.
During your consultation, Dr. Moyer will talk with you about your body goals. He will work to determine the target areas to extract unwanted fat for re-injection into the buttocks. This is a highly revolutionary procedure that removes fat from one area, purifies the fat, and then re-injects the fat to the buttocks to re-contour the area, filling out the look of your buttocks and making them more attractive and shapely.
If you are interested in learning more about a Brazilian butt lift, contact Hunter Moyer, MD today to schedule your consultation. Dr. Moyer is equipped to meet your concerns and exceed your expectations, and our entire practice listens carefully to your goals in order to tailor our cosmetic procedures to achieve your desired results.
Posted on behalf of Dr. Hunter Moyer
Follow Us on Google+

Hunter R. Moyer, MD